Our Flax Fibers > Know - How
The largest capacity and the know-how
of flax scutching in COMLIN
COMLIN gathers 9 industrial scutching units in Normandy. They are based close to the flax culture areas.
COMLIN presently has the largest scutching capacity worldwide.
Industrial methods and processes have been unified within the COMLIN Union procedures.
Thanks to the customer proximity, COMLIN has organized its scutching methods according to the market expectations.
Enforcing a common classification method has been one of the major progress for the organization. This classification principle has been adopted by some scutching mills in Europe.
COMLIN commitment to quality:
key focuses at the scutching (process) stage
.

Sorting- quality
control- fiber selection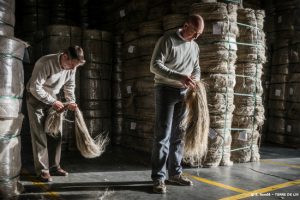 Sorting is critical. It is made at the end of the scutching line and allows to reach an homogeneous quality for each lot.
Samples are taken regularly during scutching so as to be representative of the lot.
These samples are also used for the fiber classification.
Each lot is classified according to a 5 criteria rating which makes the qualitative assessment of the lot.
The qualitative rating of the lot allows an accurate selection of the material according to the requests of the spinner customers. This rating ensures a continuity in the qualitative follow up of the customer supply.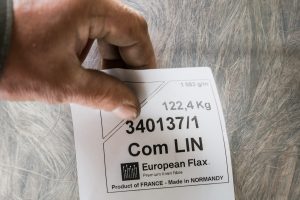 COMLIN ensures a full traceability from the field to the scutched flax lot.
COMLIN signed the European Flax commitment charter. Through this Charter, COMLIN is committed to sustainable practices as well as to mechanical scutching and to an economy of proximity.
TEX NORD is certified European Flax. This certification guaranteed that all the flax sold by TEX NORD is traced.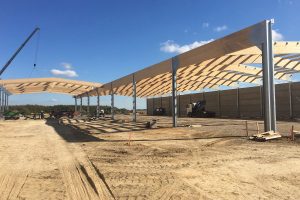 COMLIN makes regular investments :
– Improvement of scutching equipements so as to increase the productivity, the fiber quality, the security and the workstation ergonomics.
– Improvement of the harvesting equipment so as to optimize the reactivity and the crop quality.
– Building of a storage warehouse so as to secure the market supply.